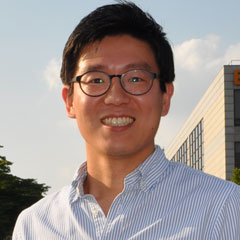 Professor Jae Kyoung Kim, together with his co-research team led by Professor Carla Finkielstein of Biological Sciences at Virginia Tech, has received J. Shelton Horsley Research Award from the Virginia Academy of Science (VAS).
The J. Shelton Horsley Research Award is the highest honor given by the academy for original research.
The award ceremony took place on May 23 at Old Dominion University in Norforlk during the academy's annual meeting, May 22-24, 2019.
The award is established to commemorate the work of J. Shelton Horsley, M.D., who was a renowned surgeon and also one of the VAS founders.
Each year, VAS bestowed the award upon one research team that has published an outstanding research paper.
Professors Kim and Finkielstein jointly conducted interdisciplinary research by building mathematical models and performing experiments to discover molecular interactions between circadian rhythms and cancer cells.