December 14, 2017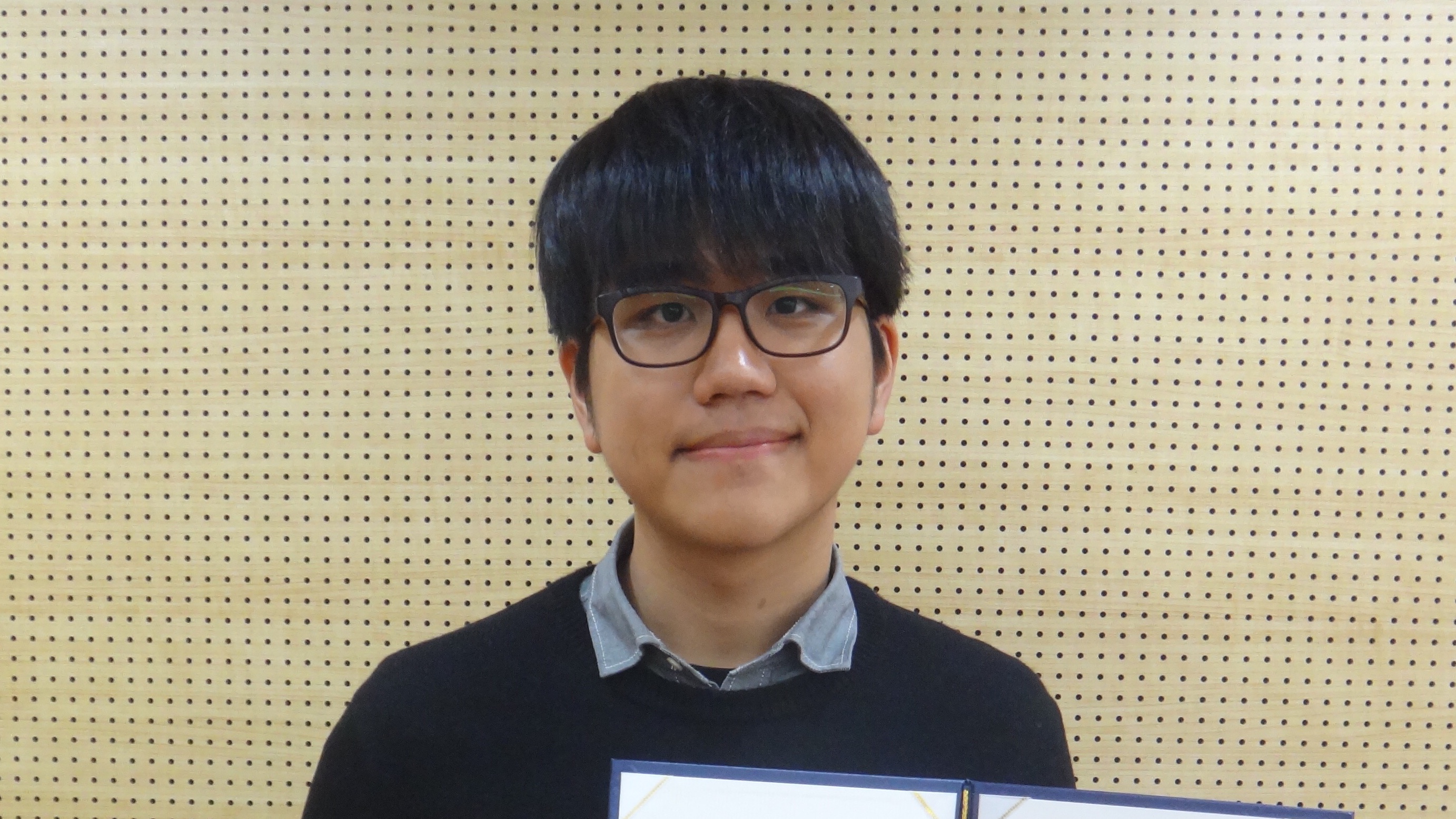 Kijoung Jang, an undergraduate student of KAIST's Mathematical Sciences Department, received the grand prize from an annual mathematics competition hosted by the Korean Mathematical Society (KMS) for college students in Korea.
The competition, now in its 36th year, usually proceeds with two groups. All math majors compete in the first group, while non-math-major students vie against each other in the second group.
Jang finished the contest with the highest score in the first group. In addition to him, 3 KAIST students won the gold medal, 11 for the silver medal, and 8 for the bronze medal. Among the total of 23 KAIST awardees, 18 were from KAIST's Math Department.
For the second group, 8 KAIST students received the gold, silver, and bronze medals.
List of Awardees
First Group (23 undergraduate students)
Grand Prize: Kijoung Jang (Mathematical Sciences, Entering Class 2014)
Gold Medal: Sounggun Wee (Mathematical Sciences, Entering Class 2015), Daebeom Choi (Mathematical Sciences, Entering Class 2016), Seokgun Han (freshmen)
Silver Medal: Huy Tung Nguyen (Mathematical Sciences, Entering Class 2016), Kee Tack Kim (Mathematical Sciences, Entering Class 2015), Jaejun Kim (Mathematical Sciences, Entering Class 2014), Taekyun Kim (Mathematical Sciences, Entering Class 2016), Joonhyung Shin (Mathematical Sciences, Entering Class 2015), Jeong Hwan Lee (Mathematical Sciences, Entering Class 2015), Tae Young Lee (Mathematical Sciences, Entering Class 2013), Seonghyuck Im (Mathematical Sciences, Entering Class 2016), Jaehyeong Jo (Mathematical Sciences, Entering Class 2016), Hyukpyo Hong (Mathematical Sciences, Entering Class 2013), Hanpil Kang (freshmen)
Bronze Medal: Yun Bum Kook (Mathematical Sciences, Entering Class 2015), Ki Yeon Park (Mathematical Sciences, Entering Class 2016), Minseok Shin (Mathematical Sciences, Entering Class 2013), Byeong Su Sim (Mathematical Sciences, Entering Class 2012), Heeyoung Yang (freshmen), HyeongGwon Hong (School of Electrical Engineering, Entering Class 2014), HyunYoung Park (School of Electrical Engineering, Entering Class 2016)
Second Group (8 undergraduate students)
Gold Medal: Dongha Kim (Mechanical Engineering, Entering Class 2015), Bonwoo Lee (freshmen)
Silver Medal: Sumin Kang (freshmen), Seung Jae Baek (School of Electrical Engineering, Entering Class 2015), Junyong Seo (Mechanical Engineering, Entering Class 2013), Minseong Jang (freshmen), Seokmin Ha (freshmen)
Bronze Medal: DoYoung Kim (freshmen)