2009 Combinatorics Workshop
(2009 조합론 학술대회)
올해로 제6회째를 맞는 조합론 학술대회가 2009년에는 KAIST에서 열립니다. 많은 참석 바랍니다.
학회 책자 (Workshop Booklet) (Posted on July 28, Updated continuously): tentative schedule + abstracts + list of registered participants.
Date: August 20-21, 2009 (Thursday/Friday)
Place: KAIST, Bldg#E6-1 (자연과학동, Natural Science Bldg) Room 1501, Daejeon, Korea
Questions? Email to

kaist2009
Register and Submit a contributed talk
Invited talks are for 50 minutes each and contributed talks are for 25 minutes each.
To register, please visit the REGISTRATION PAGE.
Registration deadline: July 20th.
등록페이지에서 숙박요청 및 강연희망 여부 등을 포함한 사항을 등록해주세요. 초청강연은 50분, 그 외의 발표는 25분입니다.
등록마감: 7월 20일
Accommodation
(New) 7/13: We are going to support the accommodation of registerd graduate students as long as our budget allows. We encourage students to come to the workshop. 예산이 가능하면 등록기간내에 등록한 대학원생의 숙박비를 지원하려고 합니다. 많은 학생들의 참여 바랍니다.
We reserved several single rooms at Daedeok Innopolis Guest House. One single room is 40,000 won per one night, and the organizers will make a reservation but you are responsible for your own hotel payment. Please let us know if you need a room when you register.
숙박이 필요하신 참석자 분들을 위해 대덕특구게스트하우스에 방을 예약해두었습니다. 1박에 4만원이며 예약은 저희가 하고 숙박비는 참석자께서 체크인할때 지불합니다. 등록하실때 저희에게 숙박이 필요하신지 알려주시기 바랍니다.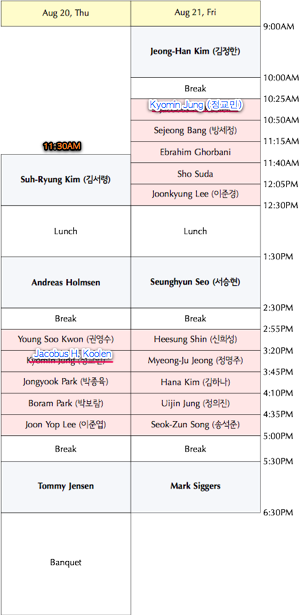 Invited Speakers
Andreas Holmsen, KAIST.

Combinatorial geometry and geometric transversals

Tommy R. Jensen, Kyungpook National University.

Some open problems on critical graphs

Jeong-Han Kim (김정한), NIMS.

T.B.A.

Suh-Ryung Kim (김서령), Seoul National University.

Competition graph and its variants

Seunghyun Seo (서승현), Kangwon National University.

Counting derangements with ascents and descents in given positions

Mark H. Siggers, Kyungpook National University.

Reflexive graphs admitting semilattice polymorphisms ― a characterisation generalising chordal graphs
Organizing Committee
Gi-Sang Cheon (천기상), Sungkyunkwan University
Dongsu Kim (김동수), KAIST
Jaeun Lee (이재운), Yeongnam University
Local Organizing Committee
Soon-Yi Kang (강순이), KAIST (Email: sy2kang at kaist.ac.kr)
Sang-il Oum (엄상일), KAIST (Email: sangil at kaist.edu)
Sponsors
Previous Combinatorics Workshops
---
305-701 대전광역시 유성구 과학로 335(구성동 373-1) 한국과학기술원 수리과학과 Tel. 042-350-2702~4(Fax 2710)
copyright (C) 2009, KAIST Dept. of Mathematical Sciences, all rights reserved. Last modified: Sat Aug 1 14:55:10 KST 2009